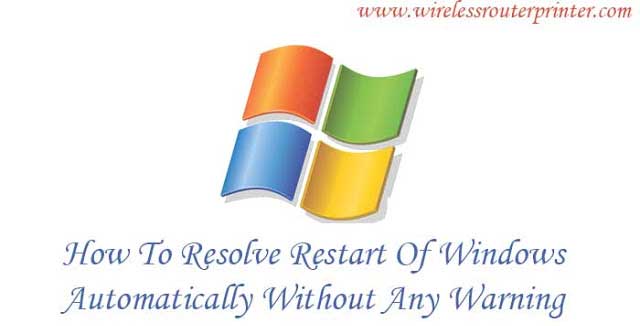 How To Resolve Restart Of Windows Automatically Without Any Warning
Software issue or error
From that time Microsoft windows released their XP version, Feature from Microsoft had been introduced that windows will restart or reboot automatically at the time of appearing blue screen on it. Even though its might be good for that kind of error which do not happen on regular basis but for those who all are getting same problems again and again, defiantly they want to know the problem and want to get rid of it by troubleshooting them. I mentioned few steps for you so that you can disable or enable feature of restart computer automatically in Windows 10, 8, 7, Vista and XP.
   1 Right click on my computer option on your computer's desktop.
2 Select Properties option.
3 In new window Select Advanced system settings or advanced tab option.
4 In Advanced system setting, Under Start-up and Recovery option, select Settings.
5 New Window of Start-up and Recovery will appear, deselect option of "Automatically restart".
6 Select OK.
If you are getting an error message on screen, your computer will not restart automatically. The error message which mostly display on your computer screen will be of Blue screen.
Issues with computer Hardware
If you have tried any new hardware in your computer and it's fail to install. In that case your computer or Laptop could give any error or restart without any kind warning. Immediately you need to remove the hardware from computer in order to avoid any kind of issues.
Make sure when you are looking into device manager for bugs or errors, you do not get any conflicts related to hardware.
Drivers of hardware can create issues too. Might be the drivers you have installed on computer, it does not support them. In that case you can try their earlier or old version on computer.
If, you have recently removed any hardware and updated any drivers and your computer gets restart again and again it may be possible memory of your computer or laptop is corrupted.
Ultimately, the reason of your computer restart could also occur due to failure of hardware installation. Hence you need to make sure that all expansion cards and cable inside the computer are connected perfectly. The best method to check is to disconnect each and every cable and expansion card and again reconnect it.
Virus in Computer
There are few viruses available like Blaster Virus who is responsible to restart computer every time without any intimation or warning. Normally what these type of viruses do, after your computer has started after every 5 to 10 minutes or maximum thirty minutes your computer gets restart and the process occurs again and again. So, if you feel there is a virus in your computer or laptop, you need to make sure that a good quality antivirus should be installed on your system and if antivirus is already there, it should be timely updated.
Heating issue
Technology is improving day by day so that's why number of computers are available in market who are manufactured on that basis if, processor of your computer, VC(Video Card) or any other important device in computer are very hot while functioning then your system will automatically restart. Suppose you are getting unusual noise from your computer recently, it could indicates that the fan of your computer is not properly working or has stopped working and if fan of computer does not work then obviously other components in CPU will overheat and what results will come after that we all know.
So, Very first thing which you need to do is to check that fan of your power supply is moving perfectly, i mean it's working fine as it should move fast. Let me tell you all hat there are number of fans on your computer like fan of processor, Fan of case and video and graphic card fan also. Hence in Oder to verify working of all other fans properly you can open your computer and check if, all are working smoothly.
These days temperature gun is available which can be useful to measure the temperature of all components in computer whether they are hardware or joined circuits inside it.
If you are using a laptop not to worry, you can also check fan of it is working properly or its overheating. Fan of laptop will on any one side of it. You need to check if your laptop is throwing hot air or not. Even you can feel heat by putting your hand in front of fan of laptop and suppose you feel your laptop is overheating then cooling pads for laptop are available in market you can use them also.
Operating system Issues
Suppose your computer is getting restart again and again after performing all suggestions I gave and if you mostly getting issues with your Windows OS (Operating system). You can restart you computer and when you get boot screen on computer enter setup of CMOS and do not perform anything on your computer for some time, leave it idle. You have perform CMOS setup and tried each and every solutions I recommended, you can activate restore your windows and even if it's also not working then you do not have any other choice except re installation of your windows operating system.
If you have any question or suggestion, feel free to ask me via comments.
If you have any question, feel free to ask me. If this post was helpful then phttps://www.facebook.com/wirelessrouterprinter.comlease keep on sharing  it and Do not forget to like us on Facebook and follow us on Twitter